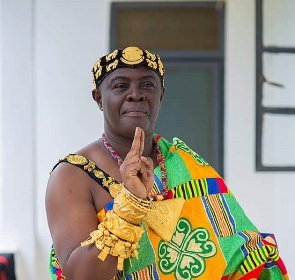 The Dormaahene, Osagyefo Oseadeeyo Agyemang Badu II, has criticised President Nana Addo Dankwa Akufo-Addo and other Ghanaian leaders for their handling of LGBTQIA+ issues in Ghana.
According to him, when asked whether LGBTQIA+ people should be accepted in Ghana, the country's leaders always avoided the question.

Speaking at a gathering in Dormaa, the monarch said that the country's leaders must be bold and declare that Ghanaian customs forbid LGBTQIA+ activities.

"Our custom is that if a man sees a woman he likes, he goes with his family to engage the family of the woman and they marry," he added, "and this is also what the Bible supports." We will never accept marriage between men or between men and women."

The traditional ruler asked our leaders to be bold and speak against same-sex relationships and condemn foreign countries that are imposing it on Ghanaians.
"We want to send a clear message to our foreign partners that we will not tolerate this heinous act. I've said it before and will say it again: we should accept it and give them a year to give birth. If they don't succeed, I'll kill them. We are not going to accept it. It is contrary to our culture, values, and norms. It will never be accepted by us. It's bad."

He served notice that all political leaders seeking to be elected must state their position on the issue before Ghanaians vote for them.

"Ghanaians are opposed to it, so why should you support it as a political leader? I would like to request that the Speaker of Parliament not keep the vote on the anti-LGBTQI+ bill secret. It should be open so that Ghanaians can see how their legislators voted."