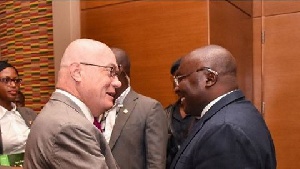 Over 2,000 agribusinesses in the maize, rice and soy value chains in northern Ghana have in the last four years received more than $135 million in private capital support, thanks to the United States Agency for International Development (USAID).
Under the USAID Financing Ghanaian Agriculture Project (USAID-FinGAP), over $500,000 in financing was pooled for seed producers and processors in that region.

At the 2017 Agriculture and Agribusiness Forum, organised through the U.S. government's global hunger and food security initiative, Feed the Future, the Chief of Party for FinGAP, Mr Rick Dvorin, disclosed that "in all, the programme, which is in its final year, has benefitted more than 148,000 smallholder farmers in northern Ghana, 40% of whom are women."

Launching the forum in Accra yesterday, US Envoy to Ghana, Mr Robert Jackson touted the ability of a successful agricultural industry to stimulate all other sectors of the Ghanaian economy.

The forum, held jointly by the Ghana Investment Promotion Centre (GIPC) and US embassy in Ghana, was designed to empower Ghanaian farmers through increased private sector investment and access to finance in the agricultural sector.

Mr Jackson pledged his government's commitment to supporting Ghana as it pursues broad-based agricultural development.


Guest speaker at the forum, Vice-President Dr Mahamudu Bawumia noted that with the right level of support, Ghana could unlock substantial value in farming through storage, transportation, agro-processing, ranching and marketing and distribution of food and commercial crops, as well as meat products along with other agribusiness products and services, like agro-chemicals, farm tools and machinery, farm management software and seed production.

Dr Bawumia praised the USAID's project for facilitating access to finance and extending same to many farmers in Ghana.

"Deploying a combination of technical assistance, incentives and training, FinGAP has worked with financial institutions to facilitate the flow of investments into the agricultural sector to businesses of all sizes," he stated.


Minister of Food and Agriculture, Dr Owusu Afriyie Akoto disclosed that under government's flagship agricultural programme, the Planting for Food and Jobs, his outfit would increase farmer-intake from the existing 200,000 to 500,000 by next year.

As of the end of July, about 185,000 farmers had been registered under the programme.

In Ghana, under the Feed the Future Initiative, USAID works with the Government of Ghana to increase agricultural productivity, remove barriers to investment and finance, link farmers to market and trade opportunities, and improve the nutrition of women and young children.