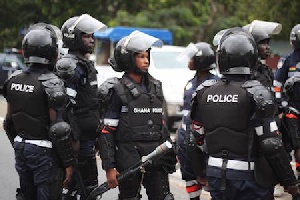 A woman and her daughter have been confirmed dead in a renewed chieftaincy clashes at Bimbilla in the Northern region.
Two others are also receiving treatment at a health facility in the area, Police sources have said.

An existing curfew in the town has been subsequently tightened following the Thursday gunfire exchanges.

A house belonging to a subchief has also been set ablaze, Starr News' Eliasu Tanko reported Thursday.

A joint armed security forces have taken over the Nanumba North district capital after reports of the gunshots while mourners had gathered.

Residents say the gathering was performing a funeral ceremony and allegedly fired a local weapon in line with tradition, in spite of a complete ban on firearms possession in the area.
Other accounts suggested that the gathering was 'illegally installing a sub chief' and that the gunshots was intended to interrupt the ceremony.

A health worker from the district capital, who pleaded anonymity, said there was a gun battle and parents have taken away their wards from schools.

Starr News heard sounds of the exchanges via telephone.

"About an hour ago, we heard that they were about to start the fight and the parents came and took their wards, and so they have closed down all schools in Bimbila, they are now shooting," the eyewitness said.

Secretary to the Bimbila Chief Salifu Gong confirmed the tension and blamed the security agencies for the situation.
The security outfit in the area has been tight-lipped on the issue.

Violence returned to Bimbilla in 2014 after a contestant in the longstanding kinship battle between members of the Gbugmayili gate was assassinated.

Police say more than 12 persons were killed and several properties damaged after some meat sellers broke custom by refusing to offer sacrifices to Yakubu Dasana Andani whose legitimacy they challenged.