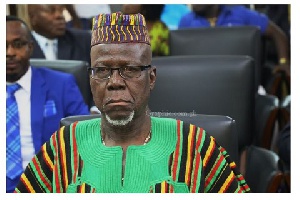 The Upper East Regional Minister, Rockson Bukari has served notice that he'll sue his fellow party member and Northern Regional Chairman of the governing New Patriotic Party (NPP), Daniel Bugri Naabu soon for defamation.
The maverick Chairman has accused the regional minister and his colleague in the Akufo-Addo government of being involved in the plot that led to the murder of Adams Mahama, the late NPP's Upper East regional chairman.

"You'll be surprised that some of these people who masterminded the killing of Adams have come to take positions in the government…like the Upper East Regional Minister. He was deeply involved in the masterminded killing of Adams," Mr. Naabu told Radio XYZ.

Meanwhile, Gregory Afoko, brother of the suspended national chairman of the NPP, Paul Afoko, is facing charges in court over his alleged role in the murder of Mr. Mahama in May 2015.
But Hon. Rockson Bukari in an interview with Kasapa FM's Akwasi Nsiah denied the allegation and urged the public to treat the claims with the contempt that it deserves.

He said he has instructed his counsel, Lawyer Sampson Laadi Anyenini to prepare the case and proceed to the law court in order to clear his name and protect his hard earned reputation.