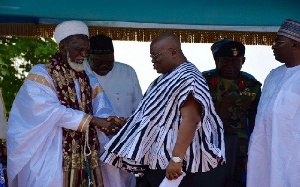 President Nana Akufo-Addo has charged Muslims in Ghana to use the 30-day fasting and prayer period of Ramadan to address the challenges of society.
In a well-wishing message to Muslims as they start the Ramadan on Monday, 6 May 2019, Mr Akufo-Addo said it is his "hope that this month of Ramadan, being a blessed one, will renew their faith and commitment to the Ghana Project".

He said: "Many ills continue to plague our society, and it is my prayer that Muslims will use this month of intense devotion to the principles of the Qur'an to pray to Allah to alleviate these ills, and anchor our country firmly on the path of progress, prosperity and righteousness".

Ramadan is the ninth month of the Islamic calendar and is observed by Muslims worldwide as a month of fasting to commemorate the first revelation of the Quran to Muhammad, according to Islamic belief.
This annual observance is regarded as one of the five pillars of Islam.

The month lasts 29–30 days based on the visual sightings of the crescent moon, according to numerous biographical accounts compiled in the hadiths.

During the period, fasting is obligatory for adult Muslims, except those who are suffering from an illness, travelling, are elderly, pregnant, breastfeeding, diabetic, chronically ill or menstruating.