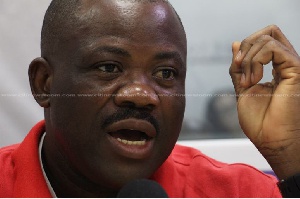 The Outspoken National Organizer of the Opposition National Democratic Congress (NDC), Mr Joshua Hamidu Akamba has indicated that his party will not entertain any police invitation that is deemed useless.
National Chairman of the NDC, Hon Samuel Ofosu has been invited by the Criminal Investigations Department (CID) of the Ghana Police Service, explaining that he has been linked to the recent kidnappings and fire outbreaks in the country.

The letter from the police inviting the NDC National Chairman stated that "some persons picked up for interrogation and investigation have mentioned your name as part of a grand scheme designed to cause fear and panic in the country".

Responding to this invitation in a Facebook post, the National Organizer of the NDC described as useless, the invitation from the Criminal Investigations Department of the Ghana Police ServiceHe said "Useless invitations from Robotic, Confused and Political Police won't be entertained."
Joshua Akamba further suggested that but for President Nana Addo Dankwa Akufo-Addo, the Director-General of CID Madam Tiwaa Addo Danquah should have been arrested over her earlier comments indicating that the kidnapped Takoradi girls had been found and being kept safely.