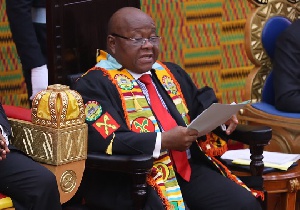 Parliament is demanding action against pastors and churches that prey on the gullibility of the unsuspecting public.
The lawmakers argued in the chamber on Wednesday, 29 May 2019 that the state must step in with a legislation to clamp down on what they term abuse of congregants especially by one-man churches.

In a statement on the floor of the house on activities of churches, Member of Parliament for Mfantseman Constituency, Mr Ekow Hayford said it is about time the state took drastic action against pastors who abuse people's right.

He called for a legislation and an independent body to manage church activities in the country.

Contributing to the statement, MP for Ablekuma Central, Mr Ebenezer Nartey argued that some pastors parading in the country do not deserve to carry themselves as such.

He cited instances where some of them distribute lotto numbers, sell paraphernalia at exorbitant prices among others as things that should be condemned.

Speaker of Parliament Prof Aaron Mike Oquaye gave the joint committees of Youth, Sports and Culture as well as the Constitutional, Legal and Parliamentary Affairs Committee one-month ultimatum to investigate and report back to the House on how best to regulate the activities of churches in the country.
Prof Oquaye also frowned on the holding of church services during working hours when that can be done on Saturdays and Sundays.

He said: "It is dishonest that someone employs you and then you use the hours he pays you for, to go somewhere else whether it's a church or otherwise to go and worship. There are times to worship, Saturdays and Sundays are there, evenings are there but definitely not man hours otherwise we cannot develop as a people…

"Honourable members, we live in a state where we all know that priests will keep people in camps reportedly to heal them and when they get worse they rush them to Korle Bu yet these people cannot be held accountable for malpractice, what kind of unbridled liberty can that be? And in fact, in England and other places if you bring a personal circumstance the doctor or nurse is mandated by law to report the circumstances to the police and action will be taken, this is how a nation develops.

"So, we may want to think whether we should also have some of these things clearly established so that when people are rushed in, in suspicious circumstances the law will apply accordingly. It is very important that if others can be dealt with for professional malpractice no one should be able to get away from this…

"We expect these committees to work seriously as we receive total commitment from both sides of the house on this particular matter".