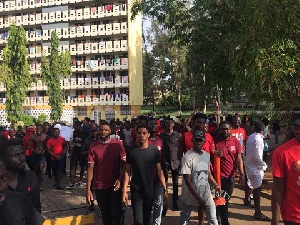 Stephen Kwaku Asare a US-based legal practitioner and accounting professor popularly known on Facebook as Kwaku Azar wants heads to roll at the Kwame Nkrumah University of Science and Technology (KNUST) following Monday's violence.
Students of the institution hit the streets to protest what they described as the constant brutalities of their colleagues by the university's security on the alleged orders of the Vice Chancellor Professor, Obiri-Danso.

It started peacefully until the situation escalated when masked armed policemen and students came face-to-face amidst pelting of stones and sporadic firing of warning shots at the Destiny Block area.

But Kwaku Azar who is blaming the problem to failed leadership wants the Vice Chancellor and the Minister of State in Charge of tertiary education to axed.

In a Facebook post sighted by MyNewsGh.com, he stated "For the avoidance of doubt, the KNUST problem boils down to failed leadership! We all could see it coming from afar and it is unforgivable that something that was so preventable has been allowed to become this explosive. At a minimum, two heads that must roll are the VC and the Minister of Tertiary Education."

It has been confirmed that the windshields of 20 cars have been smashed by the enraged students who have also vandalized security posts in protest of the attack on a third-year student who was beaten to pulp and is reported to have lost his memory.
According to reports, the university's security personnel on Monday were seen fleeing their respective posts, literally going on relays without batons when they heard the angry students charging towards their direction.

Earlier Professor Stephen Kwaku Asare called on the government to institute a probe in what he calls a reign of terror at KNUST.

Reacting to the development, Prof Azar wrote:

"I stand with the Katangese and other KNUST students in rejecting the current reign of terror and in unequivocally condemning the police brutality that has led to the arrest of 11 students, including the beating that has culminated in a student losing his memory."

He added: "It is past time for the security forces to leave the campus; for a probe to be instituted to determine the causes of this reign of terror; and, to find an effective and lasting solution to housing the students."
In another post he said:

"Let us pray for the Katangese student who has lost his memory as a result of being brutalized by university security, unleashed on the students by university authorities."

"Most of my mates and I would be dead by now if holding a campus vigil was met with the current level of brutality. Da Yie!" he wrote.