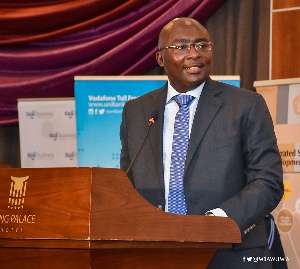 The Vice President, Dr. Mahamudu Bawumia has stated that government has began processes aimed at restructuring Ghana's public debt stock.
The Vice President was speaking at Joy FM's town hall meeting. According to him, Ghana issued a total of 2.25 billion dollars in four bonds as part of measures to ensure that government successfully implements its debt reprofiling plan.

He said, "Last Friday Ghana issued a bond essentially to do this reprofiling and in that context we raised some 2.25 billion dollars of investment that came in to buy this cedi denominated bond.
There was a cedi bond which was issued for 15 years tenure and that brought in 2.25 billion." "What is so remarkable about this transaction is that we have been able to reprofile our debt, get more foreign exchange without increasing our debt stock and that is so remarkable."

He also debunked assertions that government was rather increasing the debt stock through these bonds, saying "Many people did not quite understand the transaction and they thought that we had gone to borrow 2 billion dollars to add to Ghana's debt. No, we are actually replacing more expensive debts with less expensive ones."