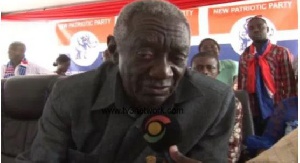 Former President John Agyekum Kufuor has yet again raised concerns about the tenure of the presidency, lamenting it is too short for a substantial achievement.
He, therefore, charged delegates at the New Patriotic Party's 25th Conference in Cape Coast to make sure the party remains in power for long. "We must keep on winning perhaps 3, 4, 5 times before the roots will go deep and we become the party of the nation," he said.

He admitted how difficult it was for the party to reclaim power, having lost it to the National Democratic Congress (NDC) in 2008, when he also left office.

"So in the short term, I want to entreat each and every one of us not to do anything or say anything or conduct ourselves in any way that will rock this young government. "[If] you do that, then you are not seeing the vision with which the party was founded."

NPP's DNA

The former president, who led the party to power for the first time in its history, expounded some of the principles on which the party was formed.
According to him, having had the experience of seeing and working with the likes of Dr Kofi Abrefa Busia, "this party has got a DNA to discharge the duty of Ghana".

He said the NPP was formed not for the sake of it but to enrich the people of Ghana.

"When we meet like this, yes, we are a party but we should never forget that our central duty is to lead Ghana out of the mess that unfortunately we have been taken [in]to by the other side."

'Technocracy'

He said democracy "was another message we got from our forebears, JB Danquah and others," insisting that in the modern era it goes beyond that.
"But we should never forget that in current times, we are in the era of technocracy," he noted. "You may be a democrat alright but if you did not know the dynamics of the times, you talk democracy and at the end of the day, your economy might be faltering , you might not be able to do the necessary social interventions to ensure the quality of opportunity that is also part of our DNA."

He, as a result, called for a balance between democracy and technocracy, making an audacious suggestion to the party not to make all executive positions elected.

He advocated the roping in of professionals in some of the affairs of the party to make it stronger.