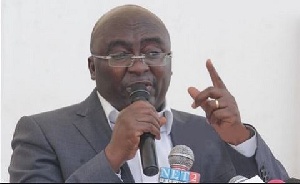 Vice President Dr. Mahamudu Bawumia has reiterated that government will deal the existence of vigilante groups in the country.
He was speaking at the Townhall meeting organized by Accra-based Joy Fm in Accra Monday April 17, 2017.

The National Democratic Congress (NDC) has said the activities of vigilante groups like the Delta Force is a state sponsored terrorism. According to the NDC, President Akufo-Addo is responsible for the activities of Delta Force and the Invincible Forces.

"The NDC is calling on President Akufo-Addo to act swiftly and bring his fellow party members perpetrating these ignominious acts to book in order to redeem the enviable image of Ghana as a peaceful exemplary democratic country which was bequeathed to him less than 100 days ago."



The NDC further noted that, there had been a rise in actions of vigilante groups since President Akufo-Addo took power. "It is extremely shameful that less than 100 days after being handed over a peaceful Ghana by the outgone NDC Administration, the Government of President Nana Akufo-Addo has shown unprecedented levels, of, WEAKNESS, GROSS INCOMPETENCE, and an INABILITY to maintain the basic tenets of law and order and its attendant twin of the protection of life and property."
"The recent incident of raiding a law court and freeing criminals on remand brings to the fore the high rise in the practice of organised political thuggery and terrorist activities by the NPP since President Akufo-Addo got sworn-in as President," the statement from the NDC added.

But Dr. Mahamudu Bawumia says: "The message that he [The President] has sent as a result of the arrest, remand, fining of these people who broke the law is a clear message to the country that regardless of your political party, you cannot hide behind the cover that I am an NPP member so I can break the law with impunity. If you break the law you will be dealt with.

You will not see Ministers lining up to sign petitions to release them." On the issue of illegal mining popularly called galamsey, he said government is committed to curbing the menace.

"We have suspended the issuance of mining licenses so that we can restructure the sector.

We have developed a five year multilateral mining integrated project to improve the management of small scale mining to protect the environment, but at the same time to allow Ghanaians to mine in a regulated and sustainable manner under this five-year multilateral mining integrated project, we will be identifying prospective areas for small scale mining where we will then direct the small scale miners to those particular areas so that they are not just mining haphazardly.


We are also banning mining around water bodies and making sure there is surveillance around those water bodies and also establishing a processing plant for gold processing."