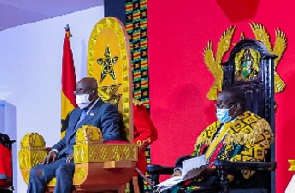 Speaker of Parliament, Alban Sumana Bagbin, has voiced unhappiness with President Akufo-Addo for his recent remarks regarding the Lesbians, Gays, Bisexual, Transgender, Queer (LGBTQ+) bill currently before Parliament.
According to Alban Bagbin, until the bill has been passed and sent to the president for assent, Akufo-Addo is not allowed to interfere in the legislative procedures.

President Akufo-Addo is quoted to have said that the anti-LGBT bill, is being championed by "only a hand full of MPs", and that it was not yet a law.

Akufo-Addo added that even if the bill is passed, it will still have to be ratified by him.

"The bill is going through the parliament, it's going through the parliament, the Attorney General has found it necessary to speak to the committee about it regarding the constitutionality or otherwise of several of its provisions and the Parliament is dealing with it but at the end of the process I will come in."

The Speaker of Parliament while responding to the president's remark during a meeting with some religious leaders on Tuesday, March 28, 2023, argued: "This is the word to his excellency the president, there's no way he can intervene, that answer he gave that 'is now before Parliament, and when it gets to a stage that he has to come in, he will come in'.

"Please this is legislation, this is not execution, wait until we pass it, and then we will direct you to execute it. That is where you come in," he stressed.
The Speaker further assured Ghanaians that the bill will be passed.

"The bill will be passed. This is the word to his excellency the President," he added.

Watch Moans & Cuddles below:





AM/SARA