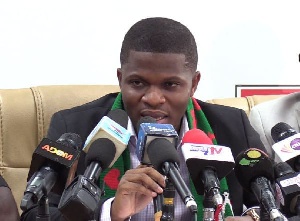 National Communications Officer for the opposition National Democratic Congress (NDC), Sammy Gyamfi, says there is no criminality associated with the contents in the leaked tape, assuming without admitting that Chairman Ofosu Ampofo said them.
"Assuming without admitting that whatever said on the tape is exactly what Ofosu Ampofo said, what wrong has he done? The tape is doctored but if indeed what is captured on the tape which the NPP is circulating on social media is true, what is criminal about what he said?" he quizzed.

Speaking on Okay FM's "Ade Akye Abia" Morning Show, Sammy Gyamfi insisted there is nothing on the tape which is criminal; "not even one which correlates with our criminal offenses act".

"I challenge anybody to tell me one. There is nothing on the tape that says Chairman Ofosu Ampofo said NDC will make Ghana insecure, but as we know in this country, President Akufo-Addo and his Police Service have made Ghana already insecured."

"Who is secured in this country? Was Ahmed Suale not killed? Was GPHA PRO not shot to death? People are being killed on the streets of Ghana everyday as it is being done in the USA. Armed robbery and violent crime have gone up 27 percent from 2017 to 2018; just robbery only without murder included. What kind of insecurity again are they talking about?" he fumed.

He stressed that such comments as contained in the doctored tape cannot be interpreted to mean that the NDC National Chair is scheming to kidnap people, and even dared the host of the show, Kwame Nkrumah Tikesie to playback the tape for its contents to be interrogated.

To him, Mr Ofosu Ampofo only indicated the opposition party's determination to make the perpetrators of these violents acts "uncomfortable", and wondered when the usage of that expression became "threats" or "criminal" in nature.


"...if you have it, play and let's hear it; even in the doctored tape, there is nothing like NDC making Ghana insecure...Unless those who are listening to the doctored tape didn't listen to it well but you can play it again and show where in the doctored tape Samuel Ofosu Ampofo says NDC will be kidnapping people as the NPP is allegeing....Or NDC will start engaging in overt and covert operations. He simply said on the doctored tape that NDC will run after people to make them feel uncomfortable. Is making someone feel uncomfortable, a threat of life or threat of death? Where is the murder on this tape? They don't know what they are talking about", he challenged.

Charged On 4 Counts

Meanwhile, the NDC's National Chairman has been charged by the Criminal Investigations Department (CID) of the Ghana Police Service.

He has formally been slapped with four charges over the explosive audio recording leaked last week.


Mr. Samuel Ofosu-Ampofo is facing charges of "threat of harm, conspiracy to commit harm, rioting and assaulting a public officer".

Granted Bail

The NDC National Chair has however been granted bail in the sum of Ghc 400,000 with two sureties, namely; the NDC General Secretary Johnson Asiedu Nketia and the party's Greater Accra Regional Chairman Joseph Ade Coker.

But Counsel for the embattled NDC stalwart, Victor Kwadwogah Adawudu, has indicated the legal team's resolve to appeal the charges.