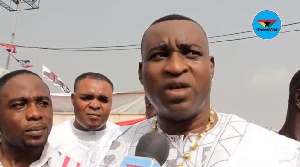 The First Vice National Chairman of the ruling New Patriotic Party (NPP) Mr. Frederick Fredua Antoh, has described the Ashanti Regional Chairman of the party, Bernard Antwi Boasiako aka Chairman Wontumi, as one of the most selfless and dedicated politicians he has seen in modern times.
"I must confess that in my entire political career, I have never seen someone who is as selfless and dedicated to the cause of this party like Chairman Wontumi" the former Regional Chairman of the party noted.

Chairman Wontumi's remarkable achievements since elected into office as the Ashanti Regional Chairman of the NPP include the payment of ten years fully rented office accommodation for the party, sponsoring the nomination fees for all constituency executives in the region, donation of posters to Parliamentary candidates in the ten regions, footing the bills polling agents during the 2016 elections.

The latest which appears to have mesmerized Mr. F. F Antoh, the man who was the Ashanti Regional Chairman during the crucial 2000 elections, is the doling out of the GH 250,000.00 for Ashanti, Brong Ahafo, Northern, Upper East and Upper West regions to facilitate the elections there.
According to Mr. Antoh, "Chairman Wontumi has done something that some of us could never imagine. Since the time of Dr. Donkor Fordjour, I have never witnessed who is so committed and loves this party and is ready to spend his resources for the NPP like Wontumi, I think the truth must be told."

Mr. Antoh opined during meetings at various constituencies in the Ashanti Region where he is currently supervising that though as human Chairman Wontumi may have his excesses, showing his love towards the party is not one of them.