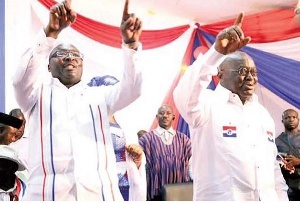 President Akufo-Addo has sworn heaven and earth not only to disown but sacrifice any individual or group of persons found to be corrupt in his government.
He gave the warning when he addressed the 25th annual National Delegates' Conference of the governing New Patriotic Party (NPP) in Cape Coast over the weekend.

The conference was themed, 'Delivering On Our Promises, Our Roots, Our Strength, Our Future.'

Concern

President Akufo-Addo has said he has already received a series of corruption allegation against some of his own appointees.

"Each time, I refer the matter to the various security agencies for further investigations to enable me take action.

"We are told that there is corruption in the Akufo-Addo government; let me reassure you of one thing; every allegation about corruption against any official, member of my government, will be investigated by the law enforcement agencies," he pointed out.
For him, the roots of the NPP are the longest, the most enduring and the noblest in Ghana's political history.

"As people who consider themselves heirs of the noblest tradition in Ghanaian politics- the tradition of freedom, the tradition of progress, the tradition of development in freedom, we would be faithful to the tradition if we recognize that we are all in the same boat; we are roaring towards the same destination about the upliftment of Ghana and about freedom in Ghana."

Resolve

"It means, therefore, that anybody who wants to rock that boat and capsize it – for the time being, that I am the Captain of the boat – I am not going to allow anybody to capsize our boat," he emphasized.

President Akufo-Addo underscored, "Too much effort and sweat and sacrifice has gone into bringing us to where we are today and I'm not going to allow anybody to capsize it.

"Our strength is our vision and the values of our party; that is the rock on which we stand. A vision and values that have survived the passage of time, out of the cold war, our forebears believed in the rule of law, respect for human rights, individual liberties, the principles of democratic accountability.
Today those principles are the universal principles that are animating human progress. So we have everything to be proud about the values and the vision of our party up to date."

He pledged, "we will hold on to that vision and to those values."

Charge

President Akufo-Addo charged those who make the corruption allegations to be "better be prepared to support it when making these allegations of corruption because nobody is going to get away with it. I am not going to preside over a government [if I don't know about it, I can't do nothing about it] but knowingly that supports corruption in our country."

That, he said, was because "every allegation of corruption that is made against any of my officials, I have given instructions to the law enforcement agencies that they should investigate each and every one of them."

Even though he envisages the possibility of some delays in the passage of the law for the establishment of the Office of Special Prosecutor, he was optimistic that "it will come" it will be manned by those who are capable of doing justice to the office and who are committed to the fight against corruption in the country."
Conviction

The president was of the belief that "the future of the party is about the success of our government and the success of our government is about our conduct, each one of us beginning with me, president, through the Vice President, through the Chief of Staff, through the Ministers of State and their Deputies, through the Regional Ministers and their Deputies, Regional Chairmen and their executives; the people they put in as District Chief Executives…jointly and severally."

In that regard, he counseled, "If we conduct ourselves well, if we respect the wishes and aspirations of the Ghanaian people that brought us here today and comport ourselves, dignity with humility, as people who have come to provide service to our nation, that is the foundation that will allow us to build in victory upon, upon victory, upon victory on the future of our country.

"I came here today to reassure that I, a child of this tradition, has spent his life in the struggle of this tradition, everything that is within me that I can do to make sure that this tradition continues to live and flourish and provide the basis for the deliverance, every breath and strength there is in me, I am going to use it for this purpose."

Jobs

On the issue of complaints about people not finding jobs in government, he noted, "it is not possible at any one time for all of us to have jobs in the state machinery."
"There are not enough jobs in the state machinery to accommodate everybody; but if we stay in office long enough, everybody will have a chance to have their place [in government]."

That notwithstanding, he insisted, "We came not to create jobs in the state; we came to create jobs in the private sector; that is our mantra, that is our creed, that is our vision," adding, "we will leave state creation of jobs in the state sector to the socialists who want everything to be dominated by the state; that is not our vision for Ghana."

He claimed, "Our vision for Ghana is about a thriving economy built on the enterprise and the energy and the initiative of the Ghanaian private sector i.e. the Ghanaian people."

He was of the belief that his government was on course to delivering the promises they made to the people of Ghana during the 2016 electioneering campaign.

"We are not going to be able within eight months to deliver everything that we promised…we know that the work that we have started, if all of us are united and solid in what we are doing, by the time the four years are up, they will say 'yes, indeed, these are the men and women who came to try and rescue our country and they have succeeded in doing so.'