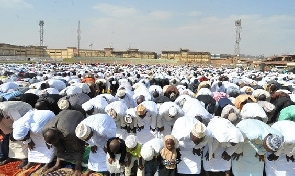 The main opposition National Democratic Congress (NDC) has congratulated all Muslims in the country on the occasion of the Eid al-Adha celebration today, Friday, 1 September 2017.
The NDC, in a statement signed by its General Secretary, Johnson Asiedu Nketia, stated that: "The National Democratic Congress (NDC) wishes to congratulate Muslims in Ghana and the world all over on the occasion of Eid al-Adha.

"We extend warm felicitation to you as you celebrate this all-important Feast of Sacrifice, an occasion which you have consistently observed to ask for Allah's blessings for mankind. As required in Islam, you always offer yourself for spiritual cleansing during which you re-establish and rededicate yourselves to Allah for spiritual upliftment.

"The NDC believes that your prayers and sacrifices have yielded positive results, culminating in the peace, stability, unity and development in the country. Your dedication and commitment to prayers have equally accounted for the peaceful co-existence among all faiths in the country.

"The NDC, on this auspicious occasion do not only commend you for the sacrifices and prayers for the nation, but also urge you not to relent on efforts to educate and create awareness on the relevance of democracy among people of the Islamic faith. That would enable the nation to reap full dividend in the country's quest to consolidate its gains in democracy which has earned her recognition among comity of nations.
"We are convinced that Allah would accept the prayers and sacrifices of our Muslim brothers and sisters and grant our pilgrims travelling mercies back home. We wish them happy and fruitful Eid."

Eid al-Adha, which means "Feast of the Sacrifice", is the second of two Muslim holidays celebrated worldwide each year, and considered the holier of the two.

It honours the willingness of Ibrahim (Abraham) to sacrifice his son Ismaeel, (Ismael) as an act of obedience to God's command. Before he could sacrificed his son, God intervened by sending his angel Jibra'il (Gabriel), who then put a ram in his son's place.

In commemoration of this, an animal is sacrificed and divided into three parts: one third of the share is given to the poor and needy; another third is given to relatives, friends and neighbours; and the remaining third is retained by the family.