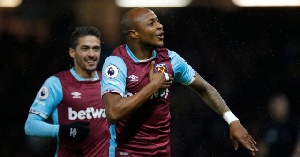 West Ham United forward Andre Ayew took time to praise the fans of the club after their 1-0 defeat to Arsenal on Tuesday evening.
The Ghanaian returned to the starting eleven and lasted the full duration but a Danny Welbeck strike was enough ot see Arsenal through to the last four of the competition.

Despite the team trailing the entire second half the famed West Ham United fans never stopped singing and made the Emirates their second home on the day.

"The fans were unbelievable and they never stopped singing throughout the game," he said
"I have friens who texted me and were telling me what the fans kept on doing and for me that special."

Ayew who has not featured in the last two games in the league will fancy his chances with a suspension to Manuel Lanzini and the fans calling for gaols.