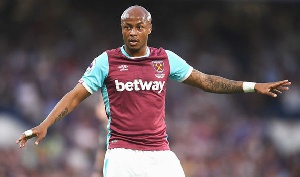 Ghana and West Ham attacker, Andre Ayew, says he is impressed with the attacking options that West Ham United have added this summer and has backed signings to hit the ground running.
The highly rated Ghanaian player is already relishing the chance to play along side his new teammates namely Javier Hernandez and Marko Arnautovic.

According to the 26-year-old, he anticipates some big things in coming campaign which kick starts in the next coming weeks.

"It's good and I'm happy to see these good players coming in," Ayew told the Hammers' official website.

"I think we have a good squad, but now we have to do the job on the field and that's another thing altogether.
"We already had good players in the squad and now we've added some more good players, so that's really important for a club like West Ham to get to another level.

"I feel like we are going to be capable of doing good things but we need to stay humble, work hard and don't think we have done it before time."

"It's good to have players to play alongside who have played for great clubs at the highest level as they know the expectations. Players who have played in the Champions League are what I like.

"When you play with players you know have played to that level, especially when you too have played there against them years before, it's good for you as a player, it's good for the club and good for the fans, especially."