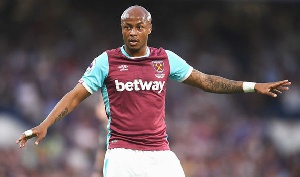 Ghana's Andre Ayew says he does not feel threatened and is rather excited that the club has been able to attract some big name signings.
The Ghanaian has seen his club record deal smashed by the arrival of Marko Anautovic.

"We already had good players in the squad and now we've added some more good players, so that's really important for a club like West Ham to get to another level".

"It's good and I'm happy to see these good players coming in", said Ayew, who provided a superb assist for young Spanish striker Toni Martinez's goal against Werder Bremen on Saturday.
"To get a player of his experience and quality is very good".

Ayew scored 6 league goals though he saw his first half of the season yanked due to a thigh injury on his debut.