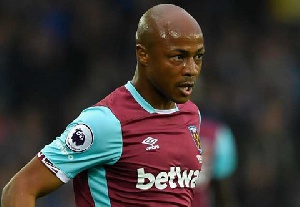 West Ham United forward Andre Ayew, fresh off the back of an encouraging African Cup of Nations campaign with Ghana, believes he is now ready to play his part in a positive end to the season for the Hammers.
The Club's record signing, speaking to West Ham TV during the side's warm-weather training camp in Dubai, played every game for Ghana in Gabon, building his fitness having missed the majority of the first half of the season.

And the former Swansea City man now thinks he is ready to return to Slaven Bilic's team and make an impact for the Hammers.

He said: "I'm happy to be back after a long African Cup of Nations. I'm happy to be back, getting fitter and training and hopefully be ready to go again.

"I'm fitter and though I need a few games to get to my top still, I know football is all about confidence and we are playing well now and scoring goals. So we need to get back into that and I can join the squad and add my bit.

"It's so important for any player, that the squad is in good form and it shows we have a good squad and the talent is there. Obviously, we can't rest on what we've done and we need to work hard for the next change because things can change in two games."
The 27-year-old not only featured in every one of his country's matches at this year's AFCON but also scored twice for the Black Stars.

Ayew netted half an hour into the team's opening group fixture against Uganda, scoring from the penalty spot, before converting the winner, again from 12 yards, at the quarter-final stage when they met DR Congo.

Though happy to bag twice for Ghana, Ayew was ultimately disappointed to lose out in the semi-finals when they were beaten by eventual winners Cameroon.

He continued: "We weren't really pleased with the progress because when you're Ghana, you are there to win the tournament and we have a good squad with good players. We could have done better, but we gave our best and that wasn't enough.

"It was a good tournament and especially for me, coming back from a long injury, I wasn't sure that I would be able to go to the tournament which is very important for me and my country.
"So it was pleasing because I was able to do that and get some minutes and play all the games and get fitter and finish the tournament with no injury. Hopefully, I can use this to start a better year with West Ham.

"I scored in the first game, scored in the quarters, so two goals, two penalties, it's not bad. I know I could have done better but due to my injuries, I felt better as the games went on. I can use that to do a better performance here."

Ayew's appearances in Claret and Blue have been limited due to the serious injury he picked up on the opening Premier League day against Chelsea in August, but he now feels his problems are behind him.

"It was very frustrating the start I had here. I think when you come, you have good intentions and want to help the squad. Then you get a really bad injury, and even when I got back I still had some pains and I was playing through the pains.

"I was out for two months or maybe three. I knew if I didn't get injured again, the pain would go and now I'm much, much better and I can help West Ham."