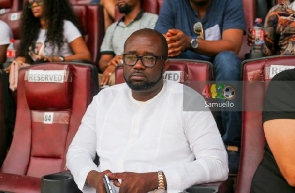 Former Black Stars striker, Augustine Arhinful has condemned GFA boss, Kurt Okraku's response to ex-Ghana captain Joe Addo after he questioned the FA's decision not to hire a substantive coach for the 2022 World Cup.
Kurt Okraku lambasted Joe Addo during the Ghana Football Association's dinner with the Ghanaian football legends prior to the 2022 FIFA World Cup, labelling Addo's objection as negative.

When asked whether the FA president's response to Joe Addo is the reason some ex-Black Stars players shy away from criticising the Black Stars, Augustine Arhinful said:

"What Joel Addo said on the programme(on GH One in 2022) wasn't a criticism. I was on the programme with him. It was me, him and Laryea Kingston on the programme. He said he doesn't understand why we are going to the World Cup with an interim coach. Then he asked "Is it that Ghana doesn't have what it takes to hire a permanent coach?"...So he didn't understand why we were going to the World Cup with an interim coach. He never criticised anybody, it's a question that he asked...I think the FA president maybe misunderstood what he was trying to say because of maybe how the thing was carried out there," he said.

Arhinful, who was also present at the GFA event where Kurt replied to Joe Addo, said he got to know about Kurt's assertion after the event, and that if he had known this would be the reply for Addo he wouldn't have attended the event.

"Regarding the programme that he(Kurt Okraku) spoke, I prayed for the programme to start. If I had known that the president would say that, probably I wouldn't have gone...We all went because, on that day in the morning, we went for a walk in support of the team(Black Stars). If we hate the team, we wouldn't have gone....Trust me, while he was talking at the programme I didn't hear because I was talking with Laryea Kingston and Mavis Amanor (a journalist with Asempa FM) ...So when it was published on the internet then I got to listen to the full tape. He was talking to footballers, so he should have been a bit careful but it has happened so we just have to move on."

Here is Kurt Okraku's remarks about Joe Addo's comment: "Few days ago, I listened to Joe Addo. And please pass on the message to him. He is a member of the FA. He serves on one of our committees. His negative comment is not for the good of the sports. I'm saying that his negative comment is not good for the sport. Our Black Stars will shine at the World Cup," he said while addressing ex-Black Stars players at the GFA's dinner with the Legends held on October 29, 2022.
Joe Addo, in his interview with GH One, said leaving Black Stars' in the hands of an interim manager for the world's biggest international showpiece was totally wrong.

"The Ghana national team is going to play the most important tournament in our history, that is the World Cup. We've done it three times, so it's not automatic that you will get there. We missed the last time in Russia and we are going there with a part-time coach? Are you kidding me? In this day and age? Hell no! We have to have a substantive coach to go to the world cup. That's my opinion, I could be wrong. But I can't go to a very very important tournament with an interim coach or a part-time (coach)."

"Why? We don't have the resources to hire a permanent coach Or does the coach not want to be permanent? What is the scenario? I don't know that. (But) no, you have to go all in. So either we have a permanent coach who is taking us to the World Cup or we don't have a coach," he added.

Ghana suffered a group-stage exit from the World Cup, winning one and losing two games. The Black Stars placed bottom of the group as a result.

EE/KPE