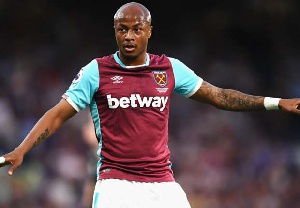 Former Ghana midfielder Mohammed Ahmed Polo is concerned about the impact the sacking of West Ham United coach Slaven Bilic could have on Andre Ayew.
The 27-year-old was signed from Swansea City last season in a record fee under the Croatian coach but the Hammers' current poor run of form has led to the new development.

"The sacking of Bilic could have an effect on Ayew's place in West Ham set-up because a lot will change too," Polo told Goal.

"Most often, new coaches want to change players and tactics to suit what they believe in, in order to achieve success and have the support of everyone at the club. However, I hope and pray my son [Ayew] wouldn't be affected.

"The former coach liked him very much that was why he even broke the bank to sign him from Swansea City. He had a target and wanted to fulfill it with his help but it never materialised," he said.

He added: "Most of these European managers are at times bias. They think some big players planned mutiny against the former manager since he was sacked due to lack of results and target few people.
"However, I know Ayew as a fighter who doesn't give up and since the new manager will take a close look at the current squad, he should be able to seize the opportunity and cement his place."

Polo also advised Ayew on how to win the heart of former Manchester United boss David Moyes, who has been rumoured to take over at the London Stadium.

"I think David Moyes like young players and fighters and usually give them the opportunity. Ayew must always follow his instructions when he is confirmed. I strongly believe that he will become his lover boy if he is sober and follow his instructions on and off the field," he said.

West Ham have picked only one win in their last five matches and sit 19th on the Premier League table with nine points.