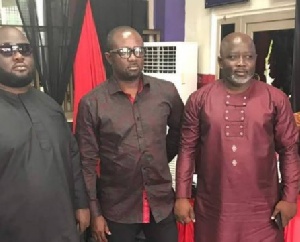 Executive Chairman of Dreams FC,Kurt ES Okraku together with Director of Football Ibrahim Adam Dossey and the owner of Vision FC Michael Osekre were among the high-profile personalities who mourned with Multimedia Group of Companies on Friday.
The three personalities signed the book of condolence of the late political journalist Kwadwo Asare Baffour Acheampong (KABA) at the premises of Multimedia.

Baffour Acheampong passed away a week today after a short illness and his demise has sent the whole country into a sorrowful mood.
The final funeral rights of the astute journalist is slated for the second week of next month.