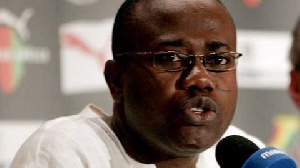 Editor-in-chief of the Informer newspaper, Andy Kankam, has disclosed on Rainbow Radio 87.FM that, President Nana Akufo-Addo is being threatened by some officials at the Ghana Football Association (GFA) over the investigation of fraud against FA president, Kwesi Nyantakyi.
The journalist told Kwame Tutu the officials have threatened to spill the beans if Kwesi Nyantakyi is implicated in the ongoing probe.

He is claiming that, there is an attempt to hound Kwesi Nyantakyi as the FA president and government is currently using some individuals to advice Kwesi Nyantakyi to resign honourably.

According to him, a highly placed source at the seat of government gave him the information and from the look of things, the FA officials ''have threatened to expose the ills in government. They are against the resignation of Nyantakyi and so they are willing to expose the government.''

He quizzed if Ghanaians have taken time to establish the relationship between Nyantakyi and President Akufo-Addo adding, ''Nyantakyi would not have made the comments if he had no relationship with the president. We have to establish the relationship and stop the unwarranted threats.''

He has challenged Kennedy Agyapong to go to court to challenge the premiering and even if Ghana does not show the video, the BBC will show it because it was a collaborative work between Anas the foreign media firm.
Andy Kankam posited, in other jurisdictions, the president would have been a subject of an investigation since the allegations may tarnish his image and the office he occupies.

The modus operandi by Anas he said has been accepted and he has worked to expose corruption in different sectors of the country.

When asked how the GFA officials are threatening Nyantakyi he said, "I am telling you that there is a highly placed source at the seat of government and he has confirmed that, the GFA officials have threatened to spill the beans should they hound him [Nyantakyi] out because they are doing this to protect their boss. The officials warned to spill the beans and I don't doubt my source."

President Akufo-Addo had on Tuesday, May 22, 2018, ordered the GFA boss to be investigated by the Criminal Investigation Department (CID) for stating in the exposé by Investigative Journalist Anas Aremeyaw Anas that doing business in Ghana is easy.

He had further indicated that by giving the President an amount of $5 million and the Vice President $3 million, you are good to do business in the country as the duo are in his pocket but the Editor-In-Chief of the New Crusading Guide, Abdul Malik Kweku Baako has stated that the FA boss never made those statements attributed to him.