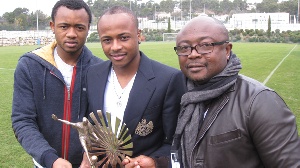 Former Black Stars captain Abedi Ayew Pele says he gets mixed feelings whenever he watches his children Rahim, Andre and Jordan play for both club and country.
The former Olympique Marseille linchpin made waves across the continent after winning the Africa Cup of Nations with Ghana in 1982 as a teenager and later led the lines for the four-time African champions, getting so close to winning the tournament again at Senegal in 1992 but the team fell on penalties to eventual winner, Ivory Coast.

Ayew featured 73 times for Ghana, raking in an impressive 33 goals in a career that spanned 16 years. He also won the UEFA Champions League with French side Olympique Marseille in 1993.

He has however, said having played to the top level for both club and country, he still maintains such ecstasy when he watches his kids play top level football like he did years ago.

"It's a great feeling when I sit back and watch them play in top clubs- I just feel good. I'm a proud father of these boys and I'm certainly grateful to God," he told AOIFootball.com.
The three-time African Player of the Year however pointed out that it's always mixed feelings because when they win, he is happy and when they lose or miss chances for club and country, he feels sad, but is overall delighted.

"I must say I have mixed feelings. When they win and may be score a goal, I feel great, happy and proud and when they lose and are not doing well at competitions or at club level, I feel worse, though the joy of having to see them at the same level I played is ecstatic," the former Al-Ain player noted.

Between them, Pele's three sons have had 129 caps for the Black Stars with Andre notching up 75 appearances for Ghana.