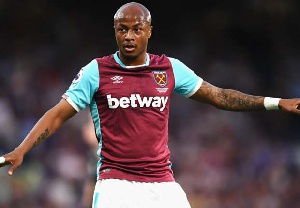 Ghana deputy captain Dede Ayew has taken stock of his steady progress in West Ham, and believes he is making inroads.
His impressive showings in his EPL debut with Swansea (12 goals in 34 matches) attracted officials of West Ham. But injury denied him the chance to continue his good works in his early days with the Hammers.

The former Marseille man is gradually warming himself back into the league and has so far hit the back of the net four times in eight games.

He told West Ham's official website that "I think I'm getting there. I have said it before, I'm getting there. I know my quality and I'm working hard and my teammates are giving me a lot of confidence.

"They have a lot of trust in me. I am trying to do my best at the moment."
Ayew's goal was, however, not enough to win West Ham all three points following a 2-2 draw with Sunderland.

Ayew added that "I think this season has been difficult in many ways. We just need to work hard to gain confidence and when we're leading, we went back too much and don't go forward.

It happens when you haven't got the results you have wanted. I know we will solve this problem before the end of the season."

On Saturday, the Hammers will host Everton on match day 34.