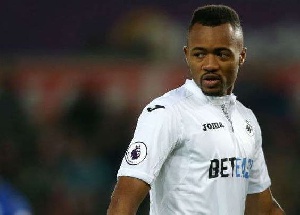 Swansea City striker Jordan Ayew has urged the club to hang onto their best players after escaping relegation.
Several key players including strike pair Gylfi Sigurdsson and Fernando Llorente have been linked with a move away from the club.

Sigurdsson, who scored nine times and had 13 assists, has been linked with Everton and Tottenham while 15-goal Llorente is being targeted by champions Chelsea.

But amid the rumour surrounding the future of their top stars, Ghana international Jordan Ayew is urging the club to retain the players.

"It is important to keep everyone, the team spirit has been magnificent," he said

"Gylfi and Llorente are great players and were obviously part of our survival season.

"They have been scoring goals and making assists and we need to keep them."
Swansea's survival act spared Ayew a second successive Premier League relegation as he was part of the Villa squad which finished bottom last season.

"I knew when I was coming here I had the chance to go back to the Championship," Ayew said after opening his Swansea goal account in the 2-1 win over West Brom on Sunday.

"But I had confidence in the style of play in the squad and the coach before I came.

"I did my maximum best and am fully satisfied with what I could bring to the team, individually and collectively.

"Even when the goals weren't there I thought I was doing really well and playing good football.

"The best is yet to come from me, because next season I know I will be at Swansea and will have good preparation."