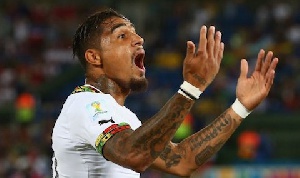 Ghana midfielder Kevin-Prince Boateng has turned up the heat for Saturday's World Cup Group G match against Germany warning the Europeans that the Black Stars will 'fight to the death'.
The Berlin-born midfielder, whose brother Jerome plays for the German national team, compared the clash in Fortaleza to a gladiator-style 'fight to the death'.

The Black Stars must get at least a draw from the match against the Germans to have any chance of progressing to the knock-out stages of the competition.

The Germans are the overwhelming favourites to win the match, but Boateng says the Black Stars will come out fighting even if it means they will die on the pitch.

"It's like in ancient Rome. There will be people around the pitch who want to see how two teams fight," the Schalke 04 star told German magazine Sport Bild.

"The team who wants it more will win and we will fight to the death against Germany."

Boateng opted to play for Ghana, the country of his father, in 2009 and will be up against his half-brother and Germany right-back Jérôme Boateng in Fortaleza.
Germany topped their group after Monday's 4-0 hammering of Cristiano Ronaldo's Portugal, while Ghana are third after their 2-1 defeat to the USA the same day.

The flamboyant ex-Tottenham Hotspur and AC Milan star has criticised the Germans in the past, saying Joachim Low's squad lacks "characters and leaders" when the going gets tough.

"Whenever things matter, they don't make it," he added.

But the 27-year-old says he has no worries about his words being used as motivation against him. "Low can hang these sentences on the wall with pleasure," insisted Boateng.

"This isn't a game-related opinion, more like something fundamental."