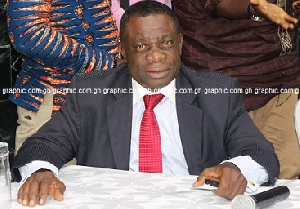 Sun, 21 Oct 2018 Source: Isaac Essuman
Social media has been inundated with calls by former and current journalists for the removal of Lawyer Dua Adonteng from Ghana's football Normalization Committee.
In a "Kickduaout" campaign, Dr. Frankie Asare-Donkor, formerly of Daily Graphic, wrote on his Facebook timeline: "The Ghana Journalists Association (GJA), the Sports Writers Association of Ghana (SWAG) and all journalists and free expression lovers must immediately petition His Excellency President Akufo Addo to remove Mr Kofi Dua-Adonteng, from the Ghana Football Association (GFA) Normalisation Committee"

Dr. Asare-Donkor posited "As we talk about productivity in Ghana, it is most disgraceful for a member of a committee set up by the government to right what went wrong with the GFA to display this lack of respect for the nation. Going to work or any official/public function late is among the causes of low productivity in Ghana. I begin my petition here to the President for the immediate removal of Kofi Dua-Adonteng from the Normalisation Committee. He doesn't deserve to be there"

Dr. Daniel Ato Aidoo, formerly of Daily Graphic's features desk, also wrote "You arrived at a press conference late without any apology. And you don't want to be questioned? Why, are you God? Dua sef, he mocked.

"I'm shocked at Mr. Dua Adonteng's conduct. I didn't expect that from a man I have known as an experienced football administrator. He is the only one among the committee members who understand football. As the chairman, the least said about him the better. His haughtiness will be the bane of the normalisation committee", Quao Andy added.
Kofi Owusu, formerly of the Multimedia group wrote: "The chairman of the committee too should be cited, for watching on while his committee member misbehaved!!".

"Very sad development which could have easily been avoided with an apology for lateness. Where have our humility and humanity gone? I'm Sorry, Thank you and Pls, no longer have a place in our everyday vocabulary like in the years gone by. Insulting language has become a greeting format that's easily applied. The so-called powerful expect journalists to do their bidding and some go to the extent of paying for good exposure but are the very ones not willing to show respect to media practitioners. Maybe this is just a day gone bad with mood swings hitting the roof so I appeal for calm because it is very clear that lessons have already been learnt within a matter of hours", Godwin Sven stated.


Source: Isaac Essuman