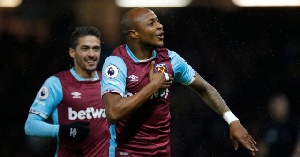 West Ham United attacker Andre Ayew is back in contention for a spot in Friday's Premier League clash with Leicester City after a brief time out due to illness," club boss David Moyes has said.
Recently appointed manager of the Hammers, Moyes was denied the service of the Ghanaian for his first game in charge as his side slumped to a 2-0 defeat at Watford on Saturday.

It was a massive blow for the London-based side as Ayew has raked in three goals in his last three appearances in all competitions.

"Andre Ayew was out with illness," Moyes told the press on Thursday.

"His wasn't so bad but he has taken a couple of days to find his feet after.

"He's back in amongst us too, which is good."

West Ham are currently caught up in an early relegation fight as they currently sit third from bottom on the table.
With Ayew's good form and the club's poor standing, it is little wonder that Moyes, like immediate-past West Ham manager Slaven Bilic, believes youngsters coming through the ranks will have to bid their time to command a regular place in the Hammers set-up.

"Youngsters will get their opportunities at the right time," Moyes added.

"I've always wanted to introduce young players, especially when I think it's right, as I showed during my time at Everton.

"The bigger problem for Toni Martinez is that he has competition in front of him from other centre-forwards – Andre Ayew, Diafra Sakho, obviously Andy Carroll as well can do that roll – so that's his biggest thing."

Ayew has made 10 league appearances involving six starts for West Ham this season.