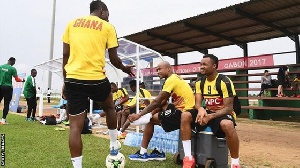 Andre Ayew and Jordan Ayew have denied reports of a rift between them and Ghana coach Kwesi Appiah, according to their spokesperson Fiifi Tackie.
The duo are yet to receive a call-up to the Black Stars since September last year, after pulling out ahead of the trip to play Congo in 2018 Fifa World Cup qualifiers.

Although, the coach has been silent on his reasons to snub them, reports suggest he has no plans for the pair as he prepares his team for the 2019 Africa Cup of Nations qualifiers.

"As far as we're concerned, we don't know of any rift or problem with the coach [Kwesi Appiah], management team or any technical team member of the Black Stars," Tackie told Goal.

"The Ayew brothers have not been called for a couple of games but if they call them, they will come like any other Ghanaian. They have never said that they are not going to play for Ghana again and have always made themselves available for future call-ups.

"If the coach thinks that he needs them and invite them for games, they will surely come and help," he added.

Tackie further reiterated the reasons why the brothers failed to play against Congo in Brazzaville.
"This is the gospel truth and this was what happened. Jordan had a stomach upset and that was a day before they were supposed to emplane to Congo so he couldn't had joined the team," he said.

"You and I know how serious 'running' stomach is, so he couldn't go. Jordan reported to the team doctor and subsequently the coach.

"In the case of Andre, he pulled a muscle a day before the game at training so he couldn't train with the team and had to step aside. The next day, he went to have a scan and sent the results to [his former side] West Ham United.

"They said the injury was not that serious but he if forces it, he can get a muscle tear, so he came to the coach the following day and explained to him the situation and later reported it to the team doctor.

"I don't see any situation [related to this], perhaps, people saw it differently and that was their opinion," he added.

The Ayew brothers are expected to join another club this summer following Swansea City's relegation from the Premier League.