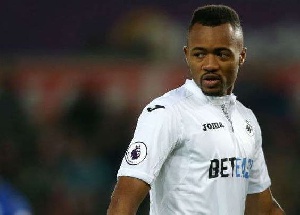 Ghana striker Jordan Ayew says Swansea City have set the standard to steer clear of future relegation battles.
Ayew, 25, scored his first goal for the Swans as they beat West Brom 2-1 to avoid the drop.

Swansea have battled relegation for the past two seasons and Ghana international Jordan Ayew says the club has magic wand to turn around their fortunes in future.

"It was a really stressful season, and now we need to rest well and come back fresh," said Ayew, who arrived from Aston Villa in January as one of Clement's first signings.

"We know what to do when we come back, we've set our standards.
"We have ended with 29 points (in the second half of season) and that is a really good tally.

"We need to build on this now and hopefully next season we will not have this situation.

"That's our plan because we want to keep the momentum going for next season."