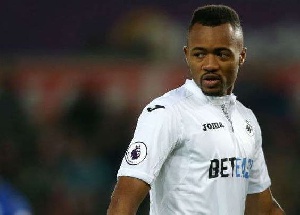 Swansea City striker Jordan Ayew is happy to have had the confidence of the club during his goal struggles in the season just gone by.
After joining the Jack Army in January, the Ghanaian had to wait until the last day of the campaign to end his scoring drought, netting in their 2-1 win over West Bromwich Albion.

"It has not been easy for me this season," Ayew told his club's official website.

"I came from Aston Villa in January. I was lucky the club had confidence in me and brought me here.

"I don't know what to say – thank you is not enough. I am so happy here. I feel like I have been reborn."

Ayew made 14 Premier League appearances involving nine starts for Paul Clement's outfit, a stat that puts his drought in perspective.

"The supporters have been wonderful," Ayew said.
"The gaffer, the staff – everyone has been wonderful to me. I just thank God.

"I thank him and I thank Swansea for giving me this chance. The best is yet to come from me.

"Next season I'm going to be at Swansea from the start, so I'm going to have a good preparation and hopefully I'll have a wonderful season."

Ayew joined Swansea from second tier side Aston Villa.

He played for French clubs Marseille, Sochaux and Lorient before moving to England in 2015.