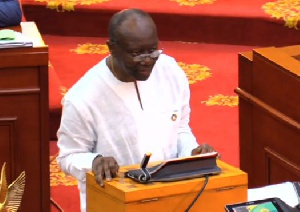 Mr Ken Ofori-Atta, the Minister of Finance, will present the 2019 Budget Statement to Parliament on Thursday, November 15.
The budget has be designed to bring more relief, hope and improvement in the standard of living of Ghanaians, Mr Kojo Oppong Nkrumah, the Minister of Information has said at a Wednesday media briefing.

The budget would also mark the beginning of Ghana's exit from the International Monetary Fund (IMF) programme, under which Ghana sought almost 918 million dollars over three years with conditions.

The IMF conditions, among other things, required Ghana to improve domestic resources, control expenditure and reduce the deficit, which also placed a ban on new employment within the public sector.

The 2019 Budget, the third of the Akufo-Addo Administration, would be the first that is not under the supervision of the IMF.

Mr Nkrumah explained that Cabinet had already reviewed the Budget.
"The Minister of Finance will demonstrate to Ghanaians what, as we exit the IMF programme, the Akufo-Addo Administration intends to do to maintain the Fiscal Discipline, which has been restored; increase liquidity in the Ghanaian economy; and sustain the heightened growth.''

The Finance Minister would also speak on how the Government intended to invest in massive infrastructure without compromising on debt sustainability as well as expand credit to the benefit of small and medium scale enterprises, Mr Nkrumah said.

Mr Nkrumah explained that the Administration had, in the first two years, raced to correct slippages from the set targets under the IMF programme and is hopeful for a successful exit at the end of 2018.

He said with the successful exit from the IMF conditionality, coupled with the prudent measures put in place by the Government within the two years, there would be improved macro environment.

This had been "evinced by the reduced policy rate, reduced inflation, reduced fiscal deficit, improved growth, improved reserves and improved credit ratings," he said.
Mr Nkrumah said with Ghana exiting the IMF conditionality, she would now have more discretionary powers to decide which areas of the economy to spread her finances to the benefit of all Ghanaians.

He, however, gave the assurance that the Government would continue to imbibe prudent means in its finances as it rakes in domestic revenue alongside sourcing longer and cheaper financing options to give the country value for money.

He said Ghanaians should have hope as the gains made would be consolidated while government brought relief in 2019.