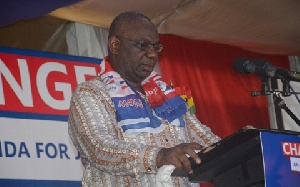 Energy Minister Boakye Agyarko has assured Ghanaians they will soon enjoy reduction in their electricity tariff.
He said just as the New Patriotic Party delivered on its promise to stabilise electricity supply, which hitherto was erratic, so will it bring down prices of the commodity to cushion consumers.

Addressing hundreds of party supporters and members at the 25th annual delegates congress of the NPP in Cape Coast Saturday, Mr Agyarko said the party has come to power with "good intentions" and "the expertise" to make Ghanaians better off.

"By all means, we will bring electricity prices down. Be patient with us… Very soon when electricity bills come you'll see that NPP has delivered on its promise," he told the delegates in Twi.
The minister, however, did not give details on when prices of electricity will be reduced and at what percentage. He admitted that though the energy crisis has stabilised, there were still issues, which he said the Akufo-Addo government was working tirelessly to totally end dumsor by the end of the year.

"Before the end of this year, you'll hear good news. Your electricity will be on all the time. We've come with good intentions and the expertise to make life better for Ghanaians," he assured.