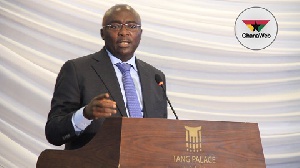 Government says Ghanaians will soon experience an improvement in their lives, as it implements its prudent economic policies.
Vice President Dr Mahamadu Bawumia, who gave the assurance recently at the annual National Delegates Conference of the ruling New Patriotic Party (NPP) in Cape Coast, said in the first year, Nana Akufo Addo would implement the Free SHS policy, which is expected to put money in the pockets of many parents and bring them relief, roll out National ID Cards; the National Digital Address System; Zongo Development Fund; and also the Northern, Middle and Southern Belt development authorities under which $1 million would be allocated to every constituency.

"In eight years, with all the massive resources at their disposal (GH¢248 billion in taxes loans and oil revenue alone), the NDC could not implement so many policies but rather presided over economic decline," he revealed.

Commitment

Vice President Bawumia reiterated government's commitment to staying current on its statutory obligations.

Some of these include the NHIS, DACF, GETFund, SSNIT.
He said government would restore the teacher and nursing training allowances, reduce fertilizer prices by 50 percent to bring relief to many farmers.

Government, among others, expects to revive the collapsed railway sector, ensure stable power supply, restore economic growth, which stood at 3.5 percent in 2016, deal with corruption, ensure fiscal discipline, debt sustainability, reduce interest rates and inflation.

Additionally, he said it would improve Ghana's sovereign credit rating, strengthen the banking system, restore payment of allowances to Arabic instructors, expand the industrial sector's 'One District, One Factory' stimulus package and the paperless port system.

Programmes launched

"We have launched the 'Planting for Food and Jobs' programme and reduced fertilizer prices by 50 percent from GH¢85 to GH¢57. We have also launched a major offensive against 'galamsey' in Ghana to protect our water bodies and our environment, suspended the issuance of small-scale mining licences to restructure the sector, developed a 5-year multi-lateral mining integrated project to improve the management of small-scale mining to protect the environment and allow Ghanaians to mine in a regulated and sustainable manner.
"Small-scale mining is banned in or near water bodies. We have completed the process of the procurement of a digital property addressing system for Ghana. Implementation will begin in September."

For him, "This is historic and transformational, once implemented every piece of land or area in our territorial waters will be uniquely identified."