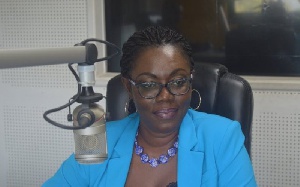 Communications Minister-designate Ursula Owusu-Ekuful has assured that she will be neutral and fair to all telecommunication companies in the country, despite her legal tussle with Zain Mobile Communications – now Airtel – in the past.
Asked by North Tongu MP Samuel Okudzeto Ablakwa whether she would not use her role, if approved as substantive minister, to hound Airtel Ghana for terminating her appointment when she was staff of that company a few years ago, Mrs Owusu-Ekuful emphasised on Wednesday, February 1: "There have been moves to settle that matter for some few months now and I believe we are close to conclusion on that matter. Zain is no more working in Ghana, the company is now Airtel and they have nothing to fear from me. "

She explained to the Appointments Committee of parliament during vetting that she worked for the company until 2009 when her appointment was terminated on the grounds that "my public appearance in the media was becoming an embarrassment to the company".

Mrs Owusu-Ekuful indicated that she dragged the company to the Human Rights Court for infringing on her rights of free expression and association.
However, she has indicated that there will be no conflict with Airtel Ghana when she officially assumed office after being sworn-in.

"The actors have changed, the company has changed, the nature of the case is personal and not professional, and I will deal with them in a matter that is in the best interest of this country and will assist them as a company to also grow. So I don't see any potential problems of conflict particularly when the moves to settle this matter out of court also comes to fruition sooner than later, as I expect," she added.