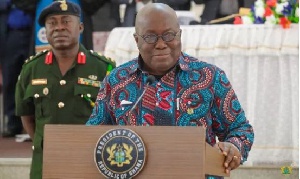 President Nana Addo Dankwa Akufo-Addo has stated there are not enough jobs in the public sector to take up the teeming unemployed Ghanaians seeking government work.
Speaking at the ongoing 25th annual delegates conference of the New Patriotic Party in Cape Coast Saturday, the President said the vision of his government is to create jobs in the private sector.

"There are not enough jobs in the state machinery to offer jobs" for the government to employ into the public sector, but assured that his government would create enough to cater for all "if we stay [in office] long enough" "We came to create job in the private sector….Our vision for Ghana is about a thriving private economy,"

He told delegates of the conference which is set to take stock of the activities of the party. President Akufo- Addo's statement comes on the back of similar one made by his Senior Minister, Yaw Osafo Maafo that there are no jobs at the public sector for unemployed Ghanaians.

Speaking at the Ghana Economic Forum on August 8, he said the public sector is already full, adding, "There will not be any additional employment in the public sector". But President Akufo-Addo on Saturday said it is the priority of his government to rehabilitate the Ghanaian economy by putting it "in a sound footing.
He said the NPP government would deliver on its job promises but said "we can only do so if we have an economy that is strong, stable" He reminded Ghanaians particularly his critics that government will not be able to "to create jobs in a dysfunctional economy" and that his government was laying the foundation for a solid economy that would attract domestic and foreign investors.

"All the economic indices are going in the right direction…The sense of confidence in the economy is returning…. Let's stay on course and support the economy programmes to consolidate our economy". He added: "We are steadily on course."