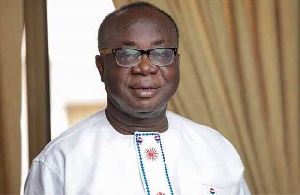 Sixteen aspirants from the ruling New Patriotic Party (NPP) today picked their nomination forms at the party's headquarters at Asylum Down in Accra.
Subject to vetting scheduled from Thursday, May 17 to Thursday, May 24, the stalwarts are going to contest for national positions in the party during the upcoming national delegates' congress to be held in Koforidua, the Eastern Regional capital, from Friday, June 15 to Sunday, June 17.

Acting General Secretary John Boadu, who doubles as the incumbent National Organizer, picked his form yesterday to contest as substantive General Secretary.

Also at the NPP headquarters yesterday to pick nomination form was Alhaji Abubakar Abdul-Rahman, aka Alhaji Short, the incumbent Upper West Regional Chairman, who is vying to become the National Chairman; Kate Gyamfua, for Women's Organizer, as well as Agnes A. Chigabatia, former minister, who wants to become a Vice Chairperson.

Alhaji Shumbu Musah Shariff and Abdul Aziz Harunafuta – who are both Nasara Coordinator aspirants – picked their forms together with Nuhu Bayorbo Mahama for Treasurer.

Opening Day
On Thursday those seeking to be elected as National Treasurer appeared to set the tone when two of them picked their forms as soon as official nomination, which is expected to close on May 10, officially opened.

Incumbent National Treasurer Kwabena Abankwah-Yeboah, who is seeking re-election, was the first to pick his form, while Abraham Obeng Amoakohene, who is challenging him for the position, also came for his.

National Women's Organizer aspirant, Joyce Konokie Zampare, came for her form while Fredrick Fredua Antoh, popularly called F.F. Antoh – the current 2nd Vice National Chairman, picked his at about 1:30 pm to contest as 1st National Vice Chairman.

Alhaji Ahmed Zaruk Nuhu and Alhaji Rashid Adam also came to pick theirs to contest as National Nasara Coordinator, a position currently held by Kamaldeen Abdulai – who is shifting to contest for National Youth Organizer.

The entire process was well coordinated as aspirants drove in and picked up their nomination forms.
They all expressed satisfaction over the entire process and were optimistic of victory.

At a recent news conference to outline the programme of activities leading to the congress, the NPP Acting General Secretary, John Boadu, said that all prospective candidates were expected to fill their application forms accurately and submit them to the National Elections Committee not later than Tuesday, May 15.

"Any applicant, who is dissatisfied with the vetting processes, may appeal to the National Council of Elders within three (3) days for immediate redress; and the decision of the National Council of Elders shall be final," the acting general secretary said, stressing that any applicant who would refuse to use all the internal party mechanisms to address any disputes as prescribed by Article 4(6) of the party's constitution and rather go to court to seek redress would automatically be barred from taking part in the impending elections.

He said that a five-member National Elections Committee comprising Rev (Prof) Samuel Asante-Antwi (chairman), Hackman Owusu-Agyemang, Madam Agnes Okudzeto (former national third vice chairperson), Mrs Ursula Owusu Ekuful (MP for Ablekuma West) and Evans Nimako (acting director of research and elections) had been put in place to oversee the conduct of the national elections.