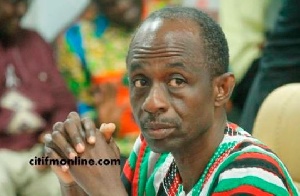 General Secretary of the NDC, Johnson Asiedu Nketiah has backed calls for probe into the 275 buses purported to have been procured by the New Patriotic Party (NPP), alleging that Mr. Freddie Blay doesn't have the financial power to facilitate the multi-million-dollar deal.
Speaking on Ekosi-sen on Asempa FM, "General Mosquito" further asserted that Mr. Blay's actions even portray that he doesn't have that financial fortitude to secure that deal.

"When he (Freddie Blay) was chairman, where was he when his party, NPP, needed money to fund their campaign prior to the 2016 general election if he really had that money…and he watched for his party to even collect monies from head potters, "Kayayes"? He quizzed.

He also noted that it is probably his appointment as chairman of the Ghana National Petroleum Corporation (GNPC) that has enriched Mr. Blay's pocket.
Asiedu Nketiah's comments come in the wake of some 275 buses brought into the country by the New Patriotic Party for each of the party's constituency.