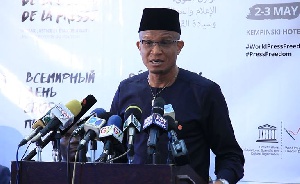 Candidates contesting for regional executive positions in the ruling New Patriotic Party (NPP) have been asked to accept the outcome of the voting in good faith.
The Information Minister, Mustapha Hamid, said they should all accept to unite solidly behind those chosen by the delegates.

He was addressing delegates to the Upper East regional conference to pick new officers to run the affairs of the party, in Bolgatanga.

The programme, originally planned to start at 0900 hours delayed for close to four hours as the candidates engaged in intense lobbying to persuade the delegates to give them their votes.

Mr. Mustapha termed the exercise as "family project" and encouraged the election of people, capable of leading the party to victory in 2020.

The Regional Minister, Rockson Ayine Bukari, expressed optimism that they would come out of the conference stronger.
There was not going to be any victors and losers, and that, the party would be the ultimate winner.

He underlined the need for the members and supporters to work together to grow and boost the NPP's attraction to voters in the region.



The delegates would be electing a Regional Chairman, First and Second Vice Chairman, Secretary, Organiser, Youth Organizer, Assistant Secretary, Women's Organiser, Nasara Coordinator and Treasurer.