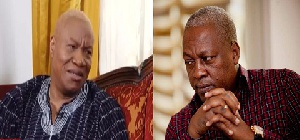 National Democratic Congress (NDC) presidential hopeful, Joshua Alabi, has claimed that former President John Dramani Mahama will be a weak candidate if he happens to stand as an independent presidential aspirant.
He said Mahama is only riding on the popularity of the NDC and therefore cannot make any meaningful impact if he goes independent.

Mr Alabi, who is the immediate-past Rector of the University of Professional Studies, Accra (UPSA) and former board chairman of Social Security and National Insurance Trust (SSNIT) during the tenure of Mr. Mahama, claims the former leader – who set the record as one-term president in the history of the country during the December 2016 elections – can't make any mark as an independent candidate.

"All things being equal, if he (Mr. Mahama) should go as an independent candidate, he cannot even secure 10% of the total votes. As a matter of fact, any flagbearer elected by the party can run on the popularity of the NDC to win election," he asserted on Emark FM in Koforidua as part of his campaign tour of the Eastern Region.




No Message

He said the then ruling party lost power in the 2016 general elections because it did not have any campaign message for Ghanaians.

According to Professor Joshua Alabi, the message carried by the then opposition New Patriotic Party (NPP) was superior and so the electorate bought into it which helped the party to secure landslide victory on December 7, 2016.

"The NPP's 'One District, One Factory,' the 'free senior high school' policy, among others, gave the populace high hope and so was voted for instead of the NDC," he noted.

Ahead of the aforementioned elections, the NDC printed what it called Green Book, which appeared to contain the achievements of the NDC government and solutions to all Ghana's problems, but Prof Alabi appears to have rubbished it.
He said that the NDC must select what he called a 'unifier' as flagbearer to be able to shape a campaign message to challenge what he called the strong policies being pursued by the ruling NPP.

Prof Alabi said although former President Mahama, who wants to lead the NDC again did his best, Ghanaians did not appreciate that effort and therefore if he wants to lead the party once again, he should be subjected to serious scrutiny by the party's delegates.

"The NDC, as a party, needs to collectively go back to the voters to find out if indeed the party delivered as expected and establish what accounted for its abysmal performance at the polls," he underscored.