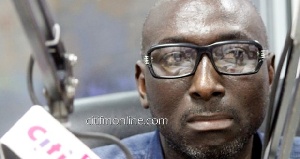 A member of the legal team of the National Democratic Congress (NDC), Abraham Amaliba, says the people of Ghana want the President, Nana Addo Dankwa Akufo-Addo, and his New Patriotic Party (NPP) government to get to work instead of their continued talk in the country.
Lawyer Amaliba said, "the President talks too much but does little but the mood of the people in Ghana now is get down to work, get down to work and let see the action".

The NDC man was making a contribution on TV3's New Day on the warning by the President that he would investigate any allegations of corruption against any of his appointees.

President Akufo-Addo at the weekend's National Delegates' Conference of his at Cape Coast in the Central Region reiterated his commitment to investigate all forms of corruption allegation that would be levelled against any official of his government.

The president has in furtherance of this commitment ordered all the security agencies to expedite every corruption allegation raised against any government appointee, saying that "I have given instructions to the law enforcement agencies to investigate every one of the allegations."

The President told Ghanaians that "persons who make these corruption allegations must prepare to prove them to get to the bottom of the assertions".


Lawyer Amaliba wondered: "Is the President saying that he is not seeing the acts of corruption that is going on in his government?"

The NDC man explained that "[the President] had the real opportunity to deal with the act of the corruption but he failed," citing the alleged rot at BOST and that of the Energy Minister.

Mr. Amaliba added that "[the President's] action does not show a president who is committed to fighting corruption because if you tell them this, won't they now find more supplicated way of covering their backs?"

"It is not what you say, but what you do. You don't need to come and warn your minister that you will hold them accountable.
This is one of the rhetorics. He talks too much". The Member of Parliament for Sekondi Constituency in the Western Region, Andrew Kofi Egyapa Mercer, commending the President on the warning to the appointees said, "some sanctions should be applied to the misconducts".

He said, "some of these things do not portray well the image of the party so some of these things should be sanctioned to serve as a deterrent to the rest".