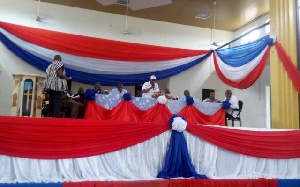 The principal streets of the Cape Coast Metropolis as well as the Takoradi-Accra Highway has been decorated with the colours of the New Patriotic Party (NPP) ahead of the national delegates Conference.
The conference on the theme: "NPP, our promises, our roots, our strength, our future", begins on Friday, August 25 to Sunday August 27, 2017 at two venues; the University of Cape Coast's New Examination Centre and the Jubilee Park.

The Ancient City in the Central Region of Ghana would host more than 4,500 delegates; among them are Ministers of State, Members of Parliament, and Constituency Executives from all the 275 constituencies across the country, National Council Members and representatives of TESCON.

The Region, which political analysts believed was a major determinant of the outcome of the country's general election, swept 19 of its 23 Constituency Seats for the NPP during last December's polls.

The NPP also won massive votes for its then Presidential Candidate, Nana Addo-Dankwa Akufo Addo, which saw his emphatic victory over his opponent , Mr John Dramani Mahama, the incumbent.

On Friday, the President of the Republic, Nana Addo and his Vice, Dr Mahamudu Bawumia will join Muslims at the Cape Coast Central Mosque for prayers.

There will be a mammoth rally on Saturday, August 26 where many Party gurus are expected to address the gathering and a thanksgiving service at the Wesley Methodist Church will climax the event on Sunday.
Checks by the Ghana News Agency on Thursday, saw the main highway from Yamoransa Junction through to the University of Cape Coast and beyond had been decorated with varying sizes of flags of the NPP colours of blue, white and red.

The biggest of them all is hoisted at the entrance of UCC, welcoming all delegates and attendees to the event, while aspiring candidates including Dr Amoako Baah, a Senior Lecture at the Kwame Nkrumah University of Science and Technology had hoisted his banner seeking for the national Chairmanship slot.

Traders were also seen feverishly preparing for the programme – arranging tables and chairs, whiles others mounted canopies at vantage location to cash in.

Checks also indicated that many of the hotels in the metropolis were fully booked up and were in preparation to welcome their visitors and threat them to the best of customer services.

At 0800 hours when GNA visited the Regional Police Headquarters, policemen were seen arriving in buses from various locations in their numbers to help maintain law and order.