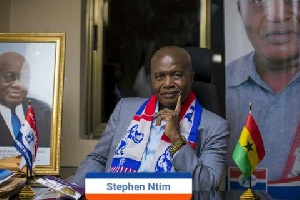 Tue, 3 Jul 2018 Source: Owusu Mohammed Danny
The Germany Branch Chairman of the governing New Patriotic Party (NPP), Rev. Alex Acheampong has declared his support for the Board Chairman of the Lands Commission, Stephen Ayensu Ntim who is seeking election as chairman in the party's upcoming National Delegates' Conference slated for the end of the week.
Rev. Acheampong who joined the Ntim Campaign to help canvas more vote for Ntim as the party's next chairman believes, this is Ntim's time.

Rev. Acheampong believes that with the experience that Mr. Ntim has obtained in politics, the time has come for delegates to decide on him who have also spent his resources and provided logistics even when the party was in opposition.
"I am not supporting Stephen Ntim because he is experienced, hardworking and has been and served the party for long and this are people who needs to be rewarded by our party," he noted.

Mr. Stephen Ayensu Ntim who has consistently failed to win the chairmanship race will be battling with Mr. Freddie Blay and Dr. Richard Amoako Baah over the weekend at Koforidua in the Eastern Region.
Source: Owusu Mohammed Danny