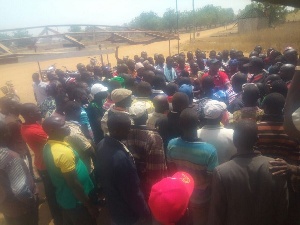 Supporters of the NPP in Saboba in the Northern region staged an angry street protest on Saturday and followed it up with a tumultuous press conference against some regional executives over alleged attempts to foist the constituency chairman Mr. Bingrini George on them as District Chief Executive.
Scores of party members flooded the streets of Saboba in rage after details emerged that the regional chairman Bugri Naabu and the newly elected Member of Parliament Charles Bintim falsely told the presidency that chiefs were in support of Bingrini.

Three persons including constituency chairman and the secretary are currently contesting for the district top job. Despite a strong opposition from residents, the regional chairman and the MP are said to be strenuously lobbying for the constituency executive.

Bugri Naabu allegedly led a delegation to the presidency after the names were submitted and made a false claim that even the paramount chief of Saboba had endorsed the constituency chairman to head the district's assembly.

The Chief has since denied and ordered the presidency to seek clarifications from his palace.

The angry supporters poured onto the streets against this action chanting words of disapproval and threatened to oppose and forcibly reject any candidate apart from one Jawol Abraham, a senior high school assistant head.

According to them, Jawol has exhibited enough traits of a good leader and the party would destabilize if he is not appointed as the DCE.
"Some invisible hands somewhere are trying to make him (Bingrini George) the DCE of the district which everybody knows that he is not worthy of that seat; he has no moral ground to be a DCE. This is a man we know his personal records does not give any encouragement in this district, and all we are saying to the president that if he wants this seat retained then all he needs to do is to give the DCE to Jawol Abraham" a livid youth leader Kwame Harrison said.

Mr. George has also been accused of embezzlement of campaign funds and being arrogant.

Bugri Naabu and Mr. George did not respond to calls for comments.

Political tensions have escalated in many districts in the region over the appointment of District Chief Executive post. From allegations of favoritism and extortions, locals have incessantly accused Bugri Naabu of trying to impose individuals on the people.

Armed military and police forces were deployed to Tatale last month after a similar chaotic protest nearly morphed into a full blown inter tribal conflict between kokombas and Bassares.