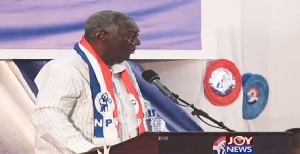 Former President John Agyekum Kufuor has advised the leadership of the New Patriotic Party (NPP) to employ professionals who do not desire political positions as full time staff to help steer the party in its daily affairs.
According to him, such professionals will think and strategise for the party, and help in the medium and long-term to strengthen the party.

Mr Kufuor said this at the NPP's delegate's conference in Cape Coast on Saturday, August 26 2017.

He said: "It is not every office that must be voted for. The leadership definitely must be voted for, but under the leadership, we must have full-time backroom staff who are very professional thinkers and workers.
"The backroom people don't tend to be too good on platforms; that is the profession of politicians like us. But invariably behind us, we've got the backroom people working for us. It's the same in government. So the party headquarters must be equipped with such full-timers.

"They must be paid well, and their role is just to sit and think and strategise. Let's do that. Communication for instance is very much professional, strategizing and think tanking. If it is on the economy or whatever aspect of life, these days, you must have some professionals… his role is not to seek public office, but he must be there, employed by the party.

"Of course for loyalty sake, they must belong to party. Once we've found such people, lets pay them well, let's keep them in the back room, if they should show up asking to be General Secretary or women's leader, such a person must be removed. But as long as they will stay in there and strategise for us to have medium to long-term view of things, they will be strengthening the party's future."