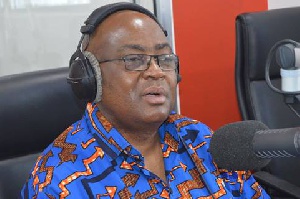 Pollster Ben Ephson is predicting the governing New Patriotic Party(NPP) National Chairmanship race will be a straight battle between current Acting National Chairman, Freddie Blay and a former National First Vice Chairman of the Party, Mr. Stephen Ntim.
Ephson intimates no matter how both aspirants may pitch their strategies, what could dictate the outcome is how best the two leading hopefuls may strive to get their followers into polling station, constituency, and regional positions.

"The person who would manage to get a lot of people elected at the various positions has a better chance of winning that slot. The one who will strategize to have his people in constituency positions, Regionals from the bulk of delegates who'll be voting will be the one who will eventually win," he told host Fiifi Banson on Anopa Kasapa on Kasapa 102.5 FM Thursday.

Acting National Chairman of the party, Mr. Freddie Blay is touting himself as well placed to win the challenge having steered the party from the woods to power in the 2016 general elections.

He became acting with the suspension of the elected Chairman, Mr. Paul Afoko.
However Mr. Stephen Ntim is not a new face in the political scene, as he will be making his fourth attempt in the National Chairmanship race.

It's unclear whether the quip 'Ntim Abre' to wit 'Ntim has suffered for the party, mostly attributed to him in such polls will bring him victory in this race.

All things being equal, the race is likely to see other aspirants such as Mr. Fred Oware and Alhaji Abdul Rahman (aka Alhaji Short).