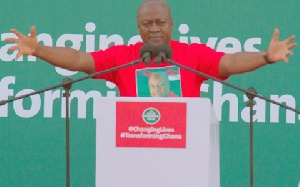 The electorate in the 2016 polls voted out the erstwhile National Democratic Congress (NDC) administration out of anger and hungry, according to the leadership of the ruling New Patriotic Party (NPP).
"The people of Ghana voted overwhelmingly for the New Patriotic Party (NPP) and they did so out of anger, hungry and frustration", NPP Central Regional Chairman, Robert Kutin revealed.

"Eight months ago, we stood together on different circumstances as party members to contest the erstwhile government with a clarion call the battle is the Lord's and won"

The Regional Chairman in his welcome address at the party's National Delegates' Conference on Saturday also revealed reasons why the party was able to garner more of the popular votes in the Central Region in the last general elections.
"We chose NPP over NDC because in the Central Region we believe after NPP no party is next".

"The people of Central Region gave us their best and voted massively from seven parliamentary seats to nineteen out of the twenty-three constituency" ,Mr. Robert Kutin pointed out.