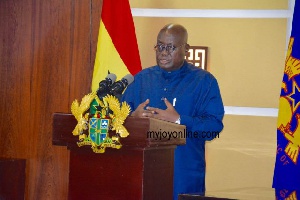 Tue, 14 Feb 2017 Source: Ghanaian Observer
A pressure group, Ghana Youth for Change and Development (GYCD), has expressed satisfaction at the number of youth and women who have been appointed to various positions in the Akufo-Addo government.
According to the group, these appointments do not come by chance, but a deliberate policy by the new government to give young people and women the opportunity to serve their country.

They indicated that the appointment of young people and women to serve was as result of the critical role the youth played in the Change Agenda prior to election 2016.

In a press release signed and issued by Fred Quainoo, President of the Group, he indicated that the youth who have found their way into government should be guided by the service to serve mother Ghana, and must not forget to serve the country with dedication and commitment.

"Be loyal to your country. Be our light. We the youth look up to you. We are told that the youth are the future leaders. The society thinks that young people must only be leaders in some distant future. But your President believed in you and put you there to show the world that young people are prepared to lead," he stated.
The Group also challenged all appointees to work in the interest of the party and for Ghana, stressing "… it is a rare privilege to be called among millions of Ghanaians to serve your people. You were chosen because your country demands of your service. The President has seen something special in you. Do not disappoint the President. Do not disappoint Ghanaians."

They called on Ghanaians, irrespective of their political, social, ethnic, religious affiliations to support the new administration to succeed, by giving the government the chance to perform and to fulfill its pledges to the good people of Ghana.

"It is only strong people who can build up a great nation. This government has good ideas, let's help them implement them. Let's support them. It is said that 'the responsibility for good government lies not just with the government themselves but also with every other part of the system they operate in, including media and the public,' the group stated.
Source: Ghanaian Observer